tDCS for Pain Treatment
Learn more about the use of tDCS for Pain treatment, how it works and the scientific evidence behind it.

Straight to:
Pain, often a residual of past physical ailments, serves as a warning signal in the body. Even after the physical issue may have been alleviated, the perception of pain may persist, making it challenging to detect, manage, and treat effectively. Each case is unique and individual, making it difficult to measure or fully comprehend someone else's pain experience. tDCS (transcranial direct current stimulation) offers promise in pain management when combined with other treatments, targeting specific brain regions to enhance overall pain relief outcomes. As a non-invasive and safe approach, tDCS opens new possibilities for improving the understanding and treatment of pain.
Research indicates that tDCS, when used in conjunction with other treatments like medications or physical therapy, may enhance the overall effectiveness of pain relief. By targeting specific brain regions, tDCS complements traditional therapies and offers a potential avenue to reduce pain levels more effectively. As a non-invasive and safe method, tDCS holds exciting possibilities in the quest for improved pain management strategies.
Transcranial Direct Current Stimulation (tDCS) is a non-invasive, well-tolerated neurostimulation treatment. In practice, tDCS involves attaching an anode and cathode electrode to the head producing a weak electrical current that is applied to the brain. Several studies have shown positive effects on a range of conditions. tDCS equipment is easy to use, and the treatment is painless and safe. When combined with other therapies, tDCS can enhance their positive effects. Depending on the voltage, duration, polarity, and location of the electrodes, the applied current has an inhibiting or stimulating effect. tDCS modifies the resting membrane potential, either promoting or inhibiting the transmission of information. This allows the therapist to modulate neuronal excitability and activity levels.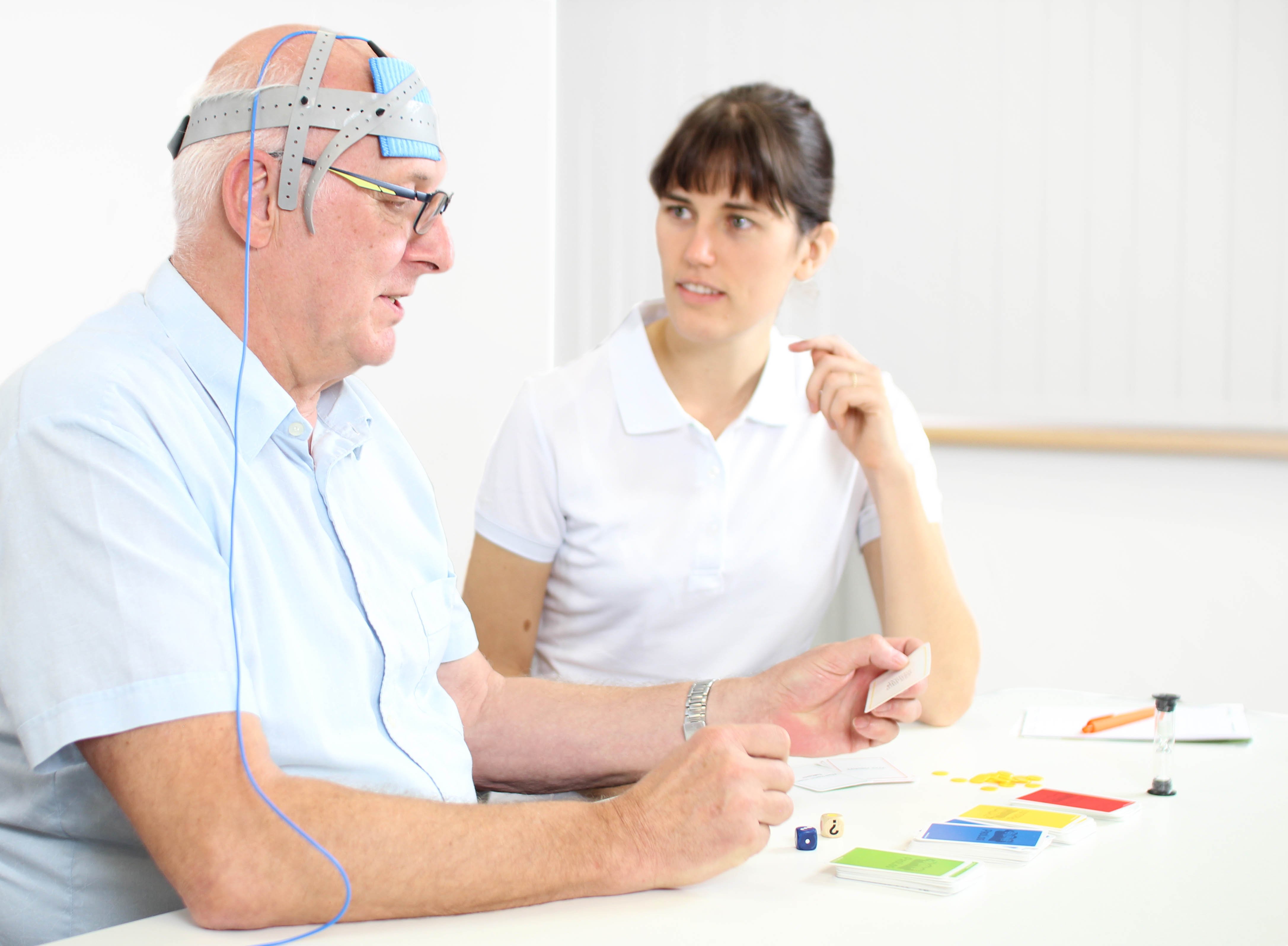 Why tDCS for Pain treatment?
Researchers have been interested in studying the effects of tDCS (transcranial direct current stimulation) on pain because it offers a non-invasive way to potentially reduce pain in people with various conditions. TDCS involves sending a weak electrical current to specific areas of the brain. By targeting certain brain regions, like the dorsolateral prefrontal cortex, which is linked to pain perception, scientists hope to discover if tDCS can help alleviate pain.
This technique could be especially helpful for individuals who experience chronic pain, like those with fibromyalgia or migraines, as it may provide an alternative or complementary method to traditional pain medications. The goal is to understand how tDCS affects the brain's processing of pain signals, leading to potential new ways to manage and alleviate pain for those who suffer from it.
Is tDCS for Pain scientifically proven?
tDCS is considered to have 'Level B' evidence, which is considered to be 'probably effective' in the treatment of pain, specifically, neuropathic pain, fibromyalgia, migraine and postoperative pain. This level includes evidence from well-conducted clinical trials without randomization, case-control studies, or cohort studies. While not as strong as Level A evidence, Level B still provides moderate support for the therapy's effectiveness.
In this study by Przeklasa-Muszyńska in 2015, researchers investigated the use of a neuromodulating method called transcranial direct current stimulation (tDCS) to treat migraine headaches in patients who were not responding well to traditional drug treatments. They recruited 50 patients with migraine headaches, some with aura (visual disturbances before the headache) and some without aura. Thirty of these patients received tDCS in addition to their usual medication, while 20 patients received only medication (control group).
The results showed that after tDCS treatment, there was a significant reduction in the consumption of pain-relieving medications (analgesics and triptans) in the tDCS group. Additionally, the tDCS group reported a decrease in pain intensity during migraine episodes, shorter episode durations, and fewer days with migraine pain. Overall, the patients who received tDCS reported a 36-40% reduction in pain, which was much more effective than the control group with only medication (10-12.5% reduction).
The study concludes that tDCS appears to be a safe and valuable complement to pharmacotherapy in both preventing and treating migraines.
In another study by Silvia and colleagues in 2017, researchers looked at the effects of tDCS in people with fibromyalgia. Fibromyalgia is a condition that can cause problems with thinking and attention. The researchers wanted to see if tDCS could help with these cognitive issues and also if it could reduce pain.
They recruited 40 women with fibromyalgia and randomly divided them into two groups. One group received the tDCS treatment, while the other group received a fake (sham) treatment. The tDCS was applied to a specific part of the brain called the dorsolateral prefrontal cortex (DLPFC).
The results showed that the real tDCS treatment improved two types of attention: orienting (shifting attention) and executive control (making decisions and planning). However, it didn't have much effect on alertness. Interestingly, the tDCS treatment also reduced the perception of pain in the participants.
Based on these findings, the researchers suggest that stimulating the DLPFC with tDCS might be a useful way to improve attention and reduce pain in people with fibromyalgia who don't respond well to other treatments.
Scientific articles on tDCS for Pain
Przeklasa-Muszyńska A et al., Transcranial direct current stimulation (tDCS) and its influence on analgesics effectiveness in patients suffering from migraine headache. Pharmacol Rep 2017
Silva AF et al., Anodal transcranial direct current stimulation over the left dorsolateral prefrontal cortex modulates attention and pain in fibromyalgia: randomized clinical trial. Sci Rep 2017
Lefaucheur JP et al., Evidence-based guidelines on the therapeutic use of transcranial direct current stimulation (tDCS). Clin Neurophysiol 2017
The information on this page is general in nature and is not intended to be a substitute for professional medical advice. Please speak with your doctor about your options for treatment.
Latest news and insights on tDCS
Seek innovative and personalized treatment at a clinic near you