Our Mission
Our mission is to alleviate mental illness and improve mental performance. We deliver most effective and sustainable outcomes through personalized therapy. We integrate empathy, technology and science to empower best practice.
Addressing the unmet need in mental health
Statistics from before the COVID-19 pandemic show, approximately one billion people worldwide suffer from a mental health disorder.
Of this population it is estimated only around 28% seek dedicated psychotherapeutic care, with a further45% only receiving general care from a primary health service. It is therefore estimated 35% of this population are undiagnosed or are not receiving care.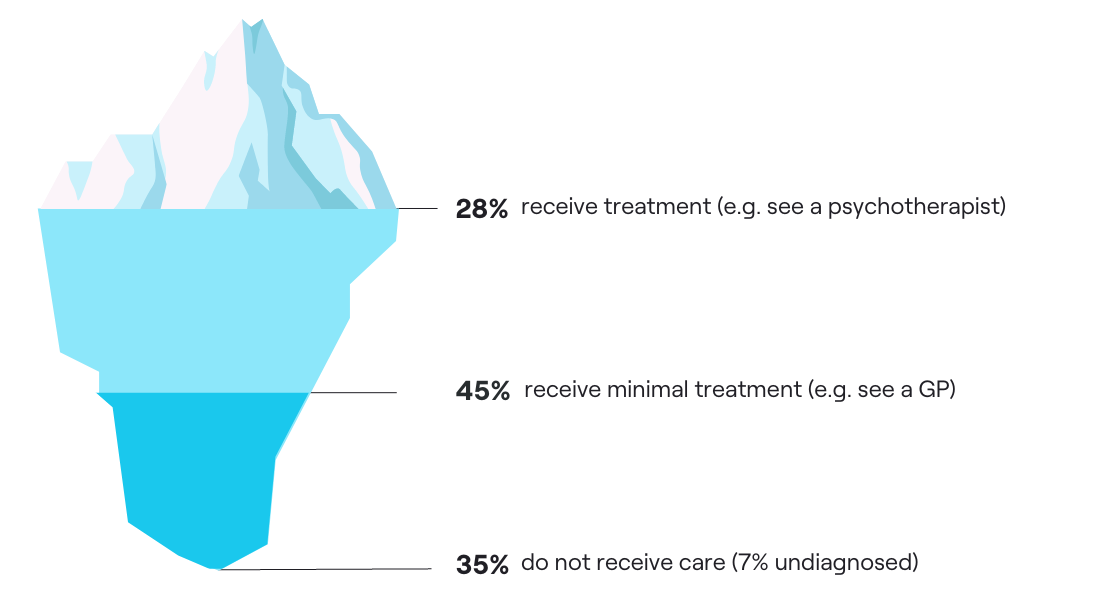 With recent advances in science and healthcare, there are now more effective and personalized therapies available. However, practices and institutions struggle to be able to scale these solutions in order to address the growing unmet need in a fast and sustainable way.
---
Source:
Moitra, M., Santomauro, D., Collins, P. Y., Vos, T., Whiteford, H., Saxena, S., & Ferrari, A. J. (2022). The global gap in treatment coverage for major depressive disorder in 84 countries from 2000-2019: A systematic review and Bayesian meta-regression analysis. PLoS medicine, 19(2), e1003901. https://doi.org/10.1371/journal.pmed.1003901
Depression Statistics Everyone Should Know (verywellmind.com)
Is there a better way to treat depression?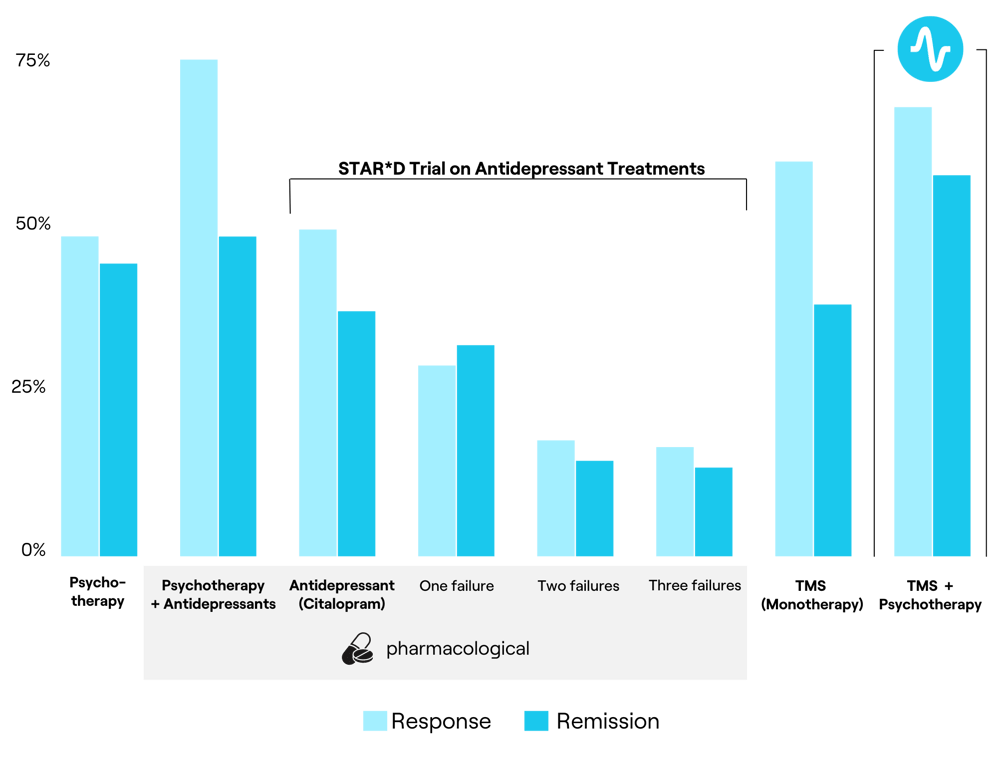 In 2015, the STAR*D trial on the effectiveness of antidepressant treatments, highlighted the need for more effective alternative options. The researchers state their data suggest that "a patient with persistent depression can get well after trying several treatment strategies, but his or her odds of beating the depression diminish as additional treatment strategies are needed."
Studies show neurocare's personalised and integrative approach of treating depression with Transcranial Magnetic Stimulation (TMS) integrated with Psychotherapy, has a remission rate of 56%, higher than any other type of therapy - whether that be psychotherapy or medications.
---
Source:
Baeken et al. (2019). Repetitive transcranial magnetic stimulation treatment for depressive disorders: current knowledge and future directions. Current opinion in psychiatry, 32(5), 409–415. https://doi.org/10.1097/YCO.0000000000000533
Trillions in cost to society in the US alone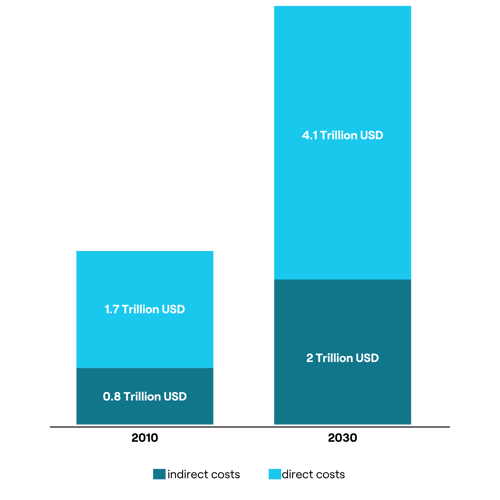 In modelling done before the COVID-19 pandemic, it was predicted that the cost of mental health diseases will double by the year 2030.
---
Source:
Trautmann S, Rehm J, Wittchen HU. The economic costs of mental disorders: Do our societies react appropriately to the burden of mental disorders?. EMBO Rep. 2016;17(9):1245-1249. doi:10.15252/embr.201642951

The impact of the pandemic
Data is showing the fallout from the COVID-19 pandemic since 2020 is having a dramatic impact on the mental health of individuals with a trend of more severe depression symptoms among the population in the US.
A break in social connectedness, economic hardship as well as drastic societal and environmental changes are all factors to exacerbate what was already a growing rate of depression and anxiety in the population.
Source:
Ettman CK, Abdalla SM, Cohen GH, Sampson L, Vivier PM, Galea S. Prevalence of Depression Symptoms in US Adults Before and During the COVID-19 Pandemic. JAMA Netw Open. 2020;3(9):e2019686. doi:10.1001/jamanetworkopen.2020.19686
The solution? neurocare's DTP
With leading engineering, science and AI, we ensure best practice clinical processes and quality patient care, embedded in our integrated Digital Therapy Platform (the "DTP").
Our DTP enables clinicians to better personalize therapy based on a multi-dimensional intake. We scale this best practice process through digital backend and frontend tools to service and empower better clinical outcomes. Our mission is to make effective therapies faster and more cost-effective, with an average of 30 sessions over 3 months for long-lasting positive results.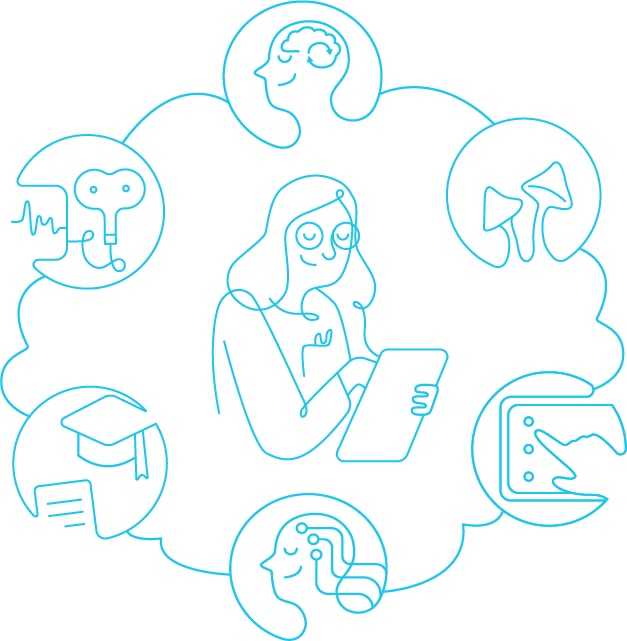 Best outcomes for patients