TMS
Transcranial Magnetic Stimulation is a fast-acting and sustainable treatment for Depression and OCD and is delivered in neurocare clinics worldwide following our leading personalised approach.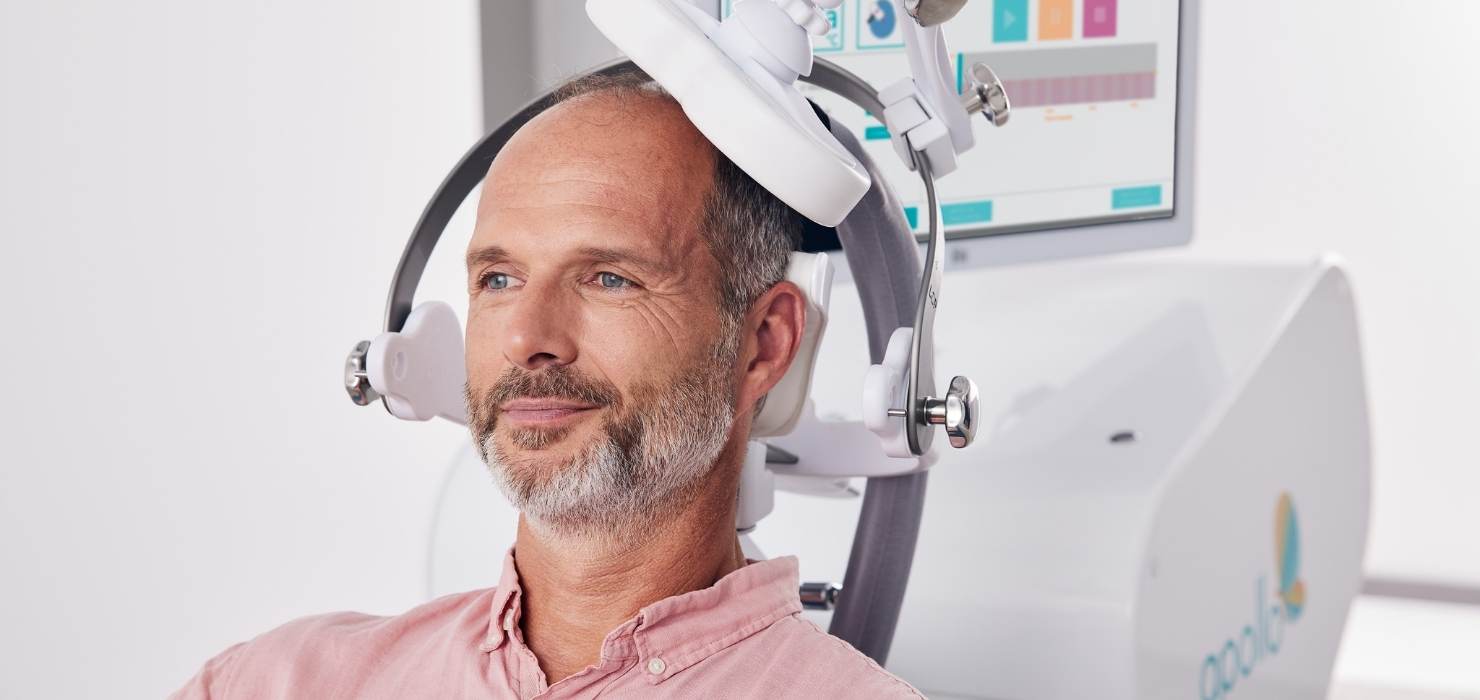 Straight to:
Finding a way to successfully treat your depression or OCD can be a long and frustrating experience. Our team at neurocare understands that you are committed to getting better and we are here to give you hope and to help you achieve long-term results with the help of scientifically proven, and better targeted treatment options.
We believe that neuromodulation therapy, combined with psychotherapy, can be a highly effective successful approach to treat depression and OCD. Simply put, neuromodulation techniques allow us to influence nerve activity in your brain not only to relieve your symptoms but to address the problem at its core.
We use a type of non-invasive neuromodulation therapy called transcranial magnetic stimulation or TMS. For the best possible outcome, and to help rewire your brain faster, we combine TMS with talk therapies so there is a dual approach to treatment.
TMS is non-invasive and medication-free. The treatment is safe and has no known side effects. TMS works by positioning a magnetic coil on your head which externally stimulates specific areas of the brain associated with symptoms of depression or OCD.
The magnetic stimulation encourages the brain cells to naturally release the chemicals necessary to properly regulate our mood. TMS is sometimes called rTMS – repetitive transcranial magnetic stimulation. This is because clients generally have several sessions.
The magnetic stimulation of TMS feels like a flicking sensation to the head. With correct screening procedures there are no serious side effects, other than a mild focal headache. This makes TMS safe and effective for many patient groups.
Different from electroconvulsive therapy (ECT), there is no risk of inducing memory loss and TMS does not require hospitalisation.
TMS works particularly well and is highly recommended for those who have not responded to traditional medication for depression or OCD. This type of treatment also avoids the side effects associated with antidepressant medications.
Who is TMS recommended to?
TMS in Depression
TMS is a safe and effective treatment for depression. It is particularly recommended for patients who did not respond to medication or other forms of treatment.
Scientific studies have shown that two out of three patients felt they benefited from TMS.
TMS can also be used for patients looking to lower the dose of antidepressant medication or for anyone hoping to cease taking medication entirely. This would be done under supervision of a doctor. Magnetic stimulation can therefore be an excellent way to support this transition process.
TMS in OCD
TMS can also be prescribed as a treatment for obsessive-compulsive disorder. Like TMS for depression, this treatment is particularly recommended for patients who have not responded to other forms of therapy.
At neurocare, we personalise your treatment and take into account sleep hygiene and other strategies promoting better sleep. Clinical research conducted by neurocare in The Netherlands found that OCD patients responded better to TMS therapy if sleep issues were addressed at the same time.

How TMS programs work and what to expect in your session
For best results, TMS sessions need to be scheduled daily or at least twice a week. Some patients notice antidepressant effects after approximately 5 sessions. However, it's important to remember that just as the individual causes of depression differ so does the response to treatment. Generally, we recommend between 20 to 30 sessions to consolidate the antidepressant effects. You can complete a full course of treatment within one to two months.
This makes TMS a fast-acting treatment programme for patients looking for an alternative to antidepressant medication. At neurocare, TMS sessions are delivered as 60-minute appointments, to also include psychotherapy with a trained mental health professional.
All TMS treatments are supervised by a psychologist or psychiatrist. The sessions are conducted in a comfortable treatment chair, where a magnetic coil is placed over your head. The coil generates a pulsating magnetic field, stimulating the target areas within the brain. The magnetic field generates a noticeable ticking sound. While the stimulation is not painful, many patients notice a tingling sensation on their scalp.
Seek innovative and personalized treatment at a clinic near you
TMS therapy focuses on the areas of the brain that control your mood. It has no negative effects on thinking and memory, or any other normal brain functions.
During TMS therapy, there is no need for sedation or anesthesia. You are awake, alert, and you can resume normal activities right after a treatment session. We administer TMS in a convenient outpatient setting, so there is no need for hospitalisation.
TMS is 100% free of side effects associated with medication. Unlike traditional antidepressant medications, TMS therapy does not cause weight gain, sexual dysfunction, nausea, fatigue, or negative cognitive effects.
An average of 20 sessions is typically needed, with sessions held at least twice per week. After a course of TMS therapy, most patients enjoy long-lasting benefits.
TMS therapy uses magnetic energy to stimulate brain cells, helping them naturally release the chemicals necessary for proper mood regulation.
We only apply protocols that have shown clinical efficacy. By combining TMS with psychotherapy, 66% of the population who suffer depression achieved positive outcomes, according to recent studies.
Frequently Asked Questions about TMS