tDCS for Dysphagia
Learn more about the use of tDCS for Dysphagia, how it works and the scientific evidence behind it.

Straight to:
Dysphagia is a medical condition characterized by difficulties in swallowing. Medical professionals estimate that 50 % of all patients experience acute difficulty in swallowing after a stroke, known as dysphagia. Approximately 25 % suffer from chronic dysphagia. It can result from various causes, including stroke, neurological disorders, muscular weakness, or structural abnormalities in the throat or esophagus. Dysphagia makes it challenging for individuals to move food or liquids safely from the mouth to the stomach, leading to risks of choking, aspiration (food or liquids entering the airway), and malnutrition. Treatment for dysphagia is complex because it involves a multidisciplinary approach, addressing the underlying cause and managing swallowing difficulties.
tDCS offers the potential to modulate brain activity and promote neural plasticity, potentially complementing traditional therapies and enhancing dysphagia rehabilitation outcomes. By investigating the use of tDCS as a treatment option, there is hope for improved swallowing function and a better quality of life for individuals grappling with dysphagia.
Transcranial Direct Current Stimulation (tDCS) is a non-invasive, well-tolerated neurostimulation treatment. In practice, tDCS involves attaching an anode and cathode electrode to the head producing a weak electrical current that is applied to the brain. Several studies have shown positive effects on a range of conditions. tDCS equipment is easy to use, and the treatment is painless and safe. When combined with other therapies, tDCS can enhance their positive effects. Depending on the voltage, duration, polarity, and location of the electrodes, the applied current has an inhibiting or stimulating effect. tDCS modifies the resting membrane potential, either promoting or inhibiting the transmission of information. This allows the therapist to modulate neuronal excitability and activity levels.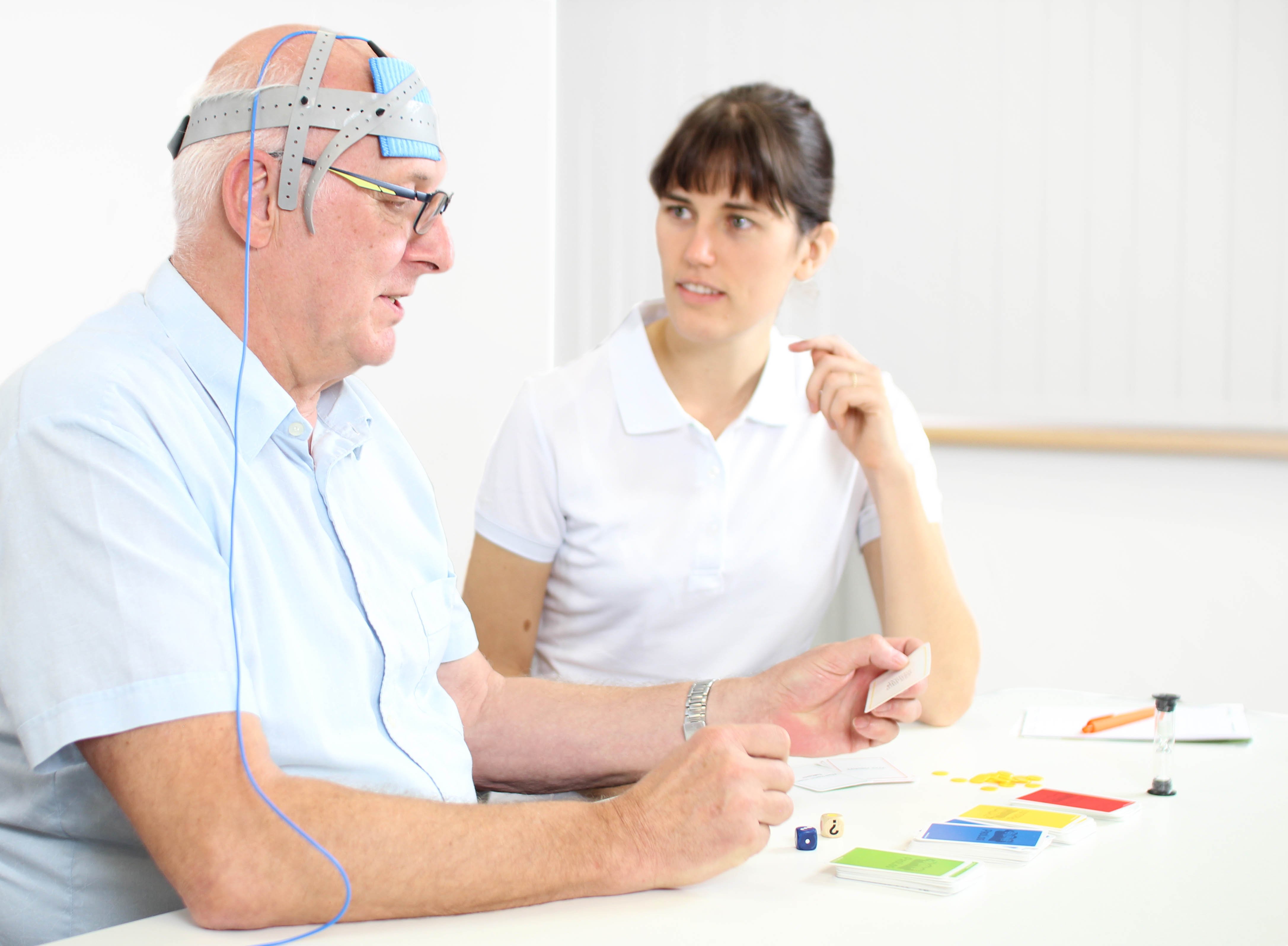 Swallowing is a complex task involving different parts of the brain. For people with swallowing problems due to neurological diseases, treatment options are limited. Researchers are exploring a new technique called transcranial direct current stimulation (tDCS) to help.
The rationale for investigating the use of transcranial direct current stimulation (tDCS) in dysphagia lies in its potential to enhance brain plasticity and promote rehabilitation of swallowing difficulties after stroke or other neurological conditions. Dysphagia is a common problem for individuals who have suffered a stroke, as it can affect the ability to swallow safely and efficiently, leading to complications like choking and malnutrition.
tDCS is a non-invasive brain stimulation technique that can target specific brain areas, including those involved in swallowing. By applying tDCS to the affected brain regions, researchers aim to modulate brain activity and promote the rewiring of neural connections. This can potentially lead to improved swallowing function and a faster recovery of dysphagia.
The use of tDCS is appealing because it is safe, relatively simple to administer, and has shown promise in various neurological conditions. It offers a novel approach to complement traditional dysphagia rehabilitation techniques and could enhance the effectiveness of therapeutic interventions.
Overall, investigating the use of tDCS in dysphagia is driven by the desire to find innovative and effective ways to improve swallowing function and quality of life for individuals affected by this challenging condition. By understanding the potential benefits of tDCS in dysphagia rehabilitation, researchers aim to offer new treatment possibilities and hope for those facing swallowing difficulties.
Is tDCS for Dysphagia scientifically proven?
tDCS has 'Level C' evidence as a treatment for Dysphagia, which is considered to be 'possibly effective'. At this level, evidence is derived from expert opinion, case studies, or standard practice. It carries the least weight in terms of scientific rigor, compared to Level A and B evidence, but may be used when higher levels of evidence are not available.
In a randomized trial by Suntrup and colleagues in 2017, the researchers wanted to see if tDCS could help improve swallowing difficulties in stroke patients. They conducted a study with 60 stroke patients who had dysphagia (trouble swallowing) and randomly divided them into two groups. One group received real tDCS, while the other group received fake (sham) tDCS.
The results showed that the patients who received real tDCS had greater improvement in their swallowing function compared to the sham group. Brain scans also revealed that real tDCS increased brain activity related to swallowing in the unaffected side of the brain.
The study also found that starting tDCS treatment earlier after the stroke was associated with better improvements in swallowing. However, for patients with strokes in specific brain regions (right insula and operculum), tDCS may be less effective.
Overall, the study suggests that tDCS can be a helpful tool in rehabilitating swallowing difficulties after stroke, especially when used early in the recovery process. It appears to promote brain changes that lead to faster improvements in swallowing function. However, its effectiveness may vary based on the location of the stroke in the brain.
Scientific articles on tDCS for dysphagia
Suntrup S et al., Magnetoencephalographic evidence for the modulation of cortical swallowing processing by transcranial direct current stimulation. Neuroimage 2013
Suntrup-Krueger S et al., Randomized trial of transcranial direct current stimulation for poststroke dysphagia. Ann Neurol. 2018
Lefaucheur JP et al., Evidence-based guidelines on the therapeutic use of transcranial direct current stimulation (tDCS). Clin Neurophysiol 2017
Latest news and insights on tDCS
Seek innovative and personalized treatment at a clinic near you