DC-STIMULATOR MC
Programmable multi-channel stimulator for neuroscientific research in transcranial electrical stimulation (tDCS, tACS, tRNS)
Straight to: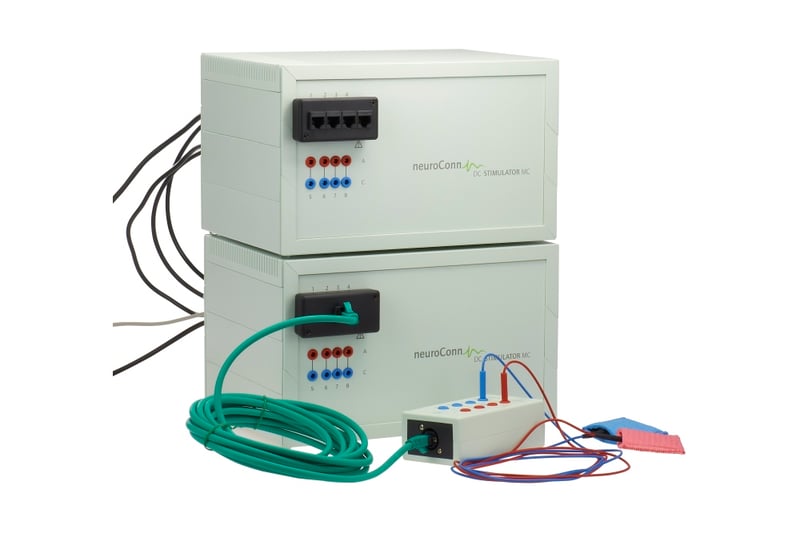 The DC-STIMULATOR MC is a stimulator for use in scientific research. It provides a stimulation with weak direct or alternating current (transcranial electrical stimulation - tES) within non-invasive Neurophysiology. The electrical charge and current density applied are far below the threshold for releasing a stimulus. Depending on the duration, the used current, the current density and the frequency the stimulation either activates or inhibits cortical activity. It has therefore a modular effect on existing neuronal elements.
Its main focus of application is in clinical research into multi-channel, controlled, supervised and simultaneous tDCS / tACS / tRNS stimulation of patients and patient groups.
The DC-STIMULATOR MC provides up to 16 electrically independent, freely programmable, micro-processor-controlled constant current sources using independent channels. It meets the highest safety standards thanks to (hardware- and software-based) multistage monitoring of the current path. By continuously monitoring electrode impedance it can accurately maintain the user-defined current amplitude while also detecting if there is insufficient contact with the skin, which will then automatically terminate stimulation to ensure subject safety.
The DC-STIMULATOR MC can also be used during functional magnetic resonance imaging (fMRI) and, in addition, can be combined with the NEURO PRAX® TMS/tES allowing full-band DC-EEG to be recorded during multi-channel tES.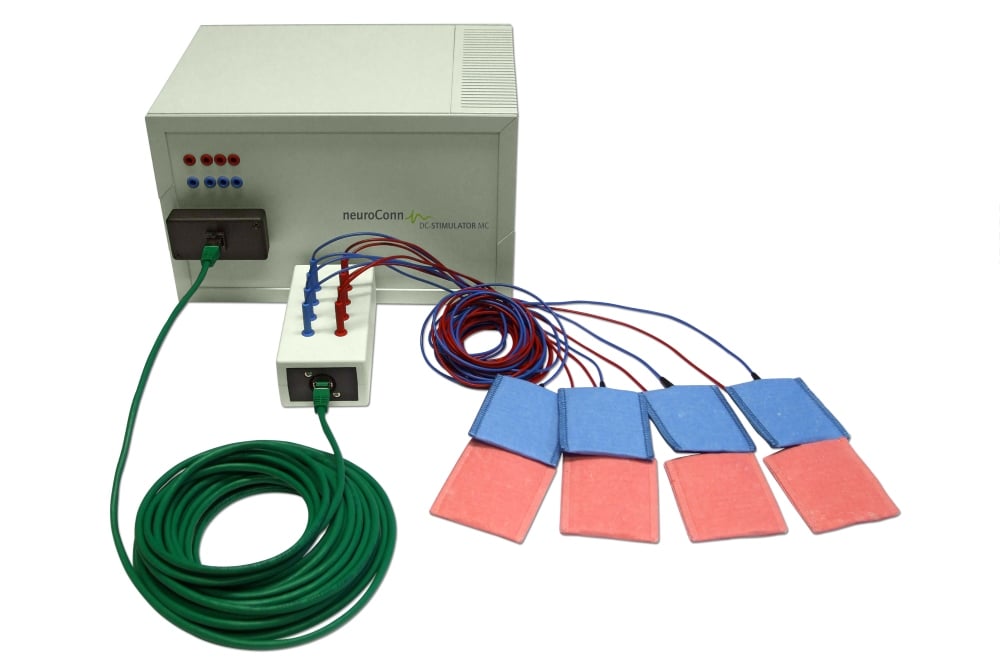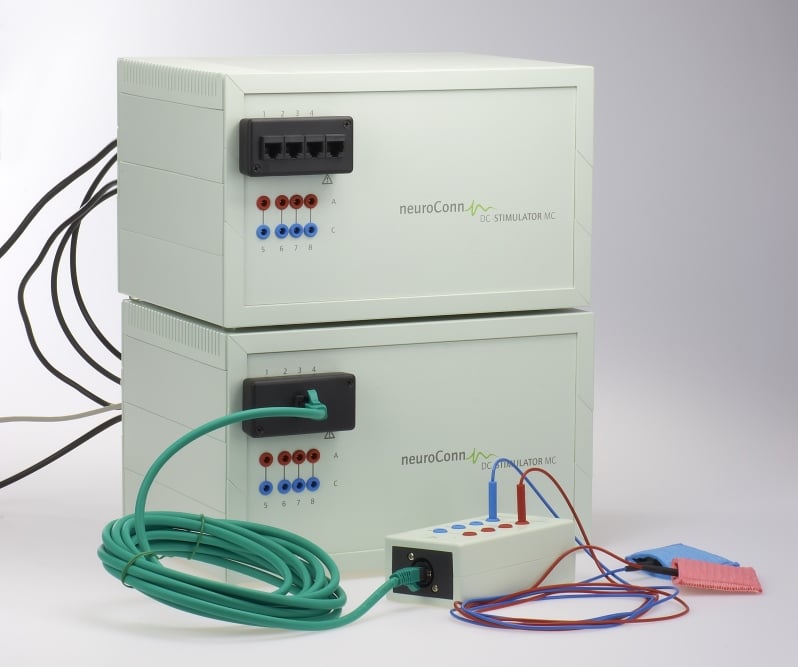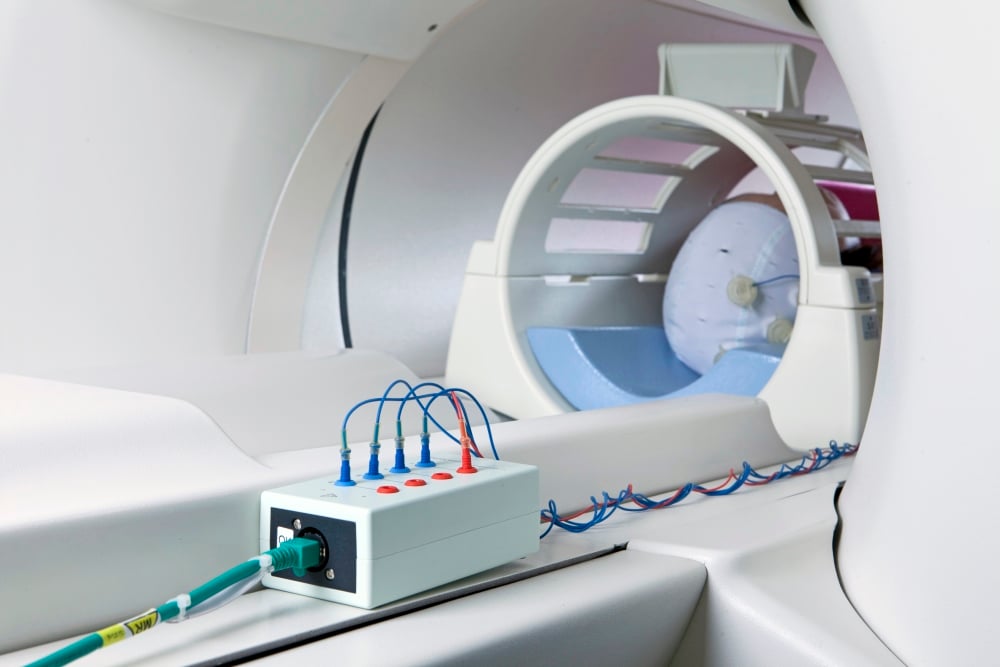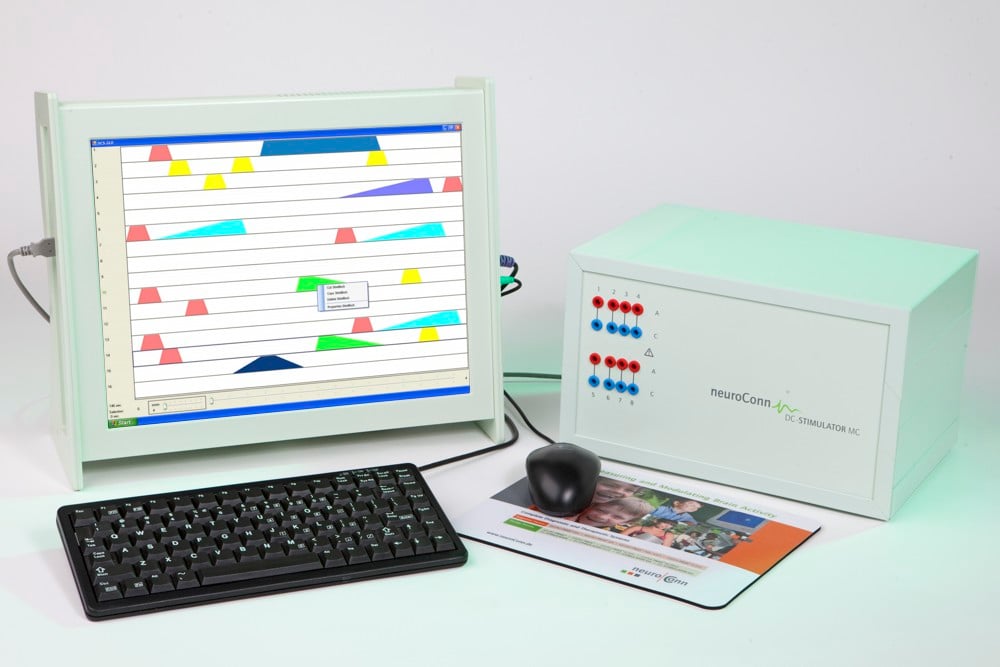 Features of the DC-STIMULATOR MC:
4/8 programmable, micro-processor-controlled constant current sources using inependent channels (optional: 16 channels)
For transcranial direct current stimulation (tDCS), transcranial alternating current stimulation (tACS), cranial electrical stimulation (CES), galvanic vestibular stimulation (GVS) and transcranial random noise stimulation (tRNS)
4 standard modes - tDCS (continuous stimulation) - pulse (cyclical stimulation activation/deactivation) - sinus (sinus wave) - noise (normally distributed)
Current strength and curve forms adjustable up to ±4,000 µA, AC current strength adjustable up to 8,000 µA (peak-to-peak)
Frequencies adjustable up to 1,000 Hz, phase freely adjustable
Various types of stimulation can be selected and combined - continuous stimulation, cyclical switching on and off of stimulation, sinusoidal stimulation
Medical panel PC for the use and programming of stimulation modes and stimulation sequences
Option: fMRI add-on for artefact-free MR images even during EPI sequences. The module has been tested for 1.5 and 3 Tesla scanners.
Research, hospitals and surgeries
Controlled, monitored and simultaneous tDCS/tACS/tRNS stimulation of sham stimulation of client groups / multi-channel tDCS/tACS/tRNS stimulation
Analysis and stimulation of the ROI
Software-controlled, multi-channel stimulation of selected regions of the brain and validation of tES with the help of functional magnetic resonance imaging (fMRI)
Development and evaluation of user-specific sequences
Solutions for tES in neuroscience research
EEG measurement with simultaneous tES
tES with concentric ring electrodes
Closed-loop solutions
Temporal Interference Stimulation
Speak with our expert team for advice and consultation.