How to Become a TMS Provider to Help Your Patients with Depression
May 4, 2023 - neurocare group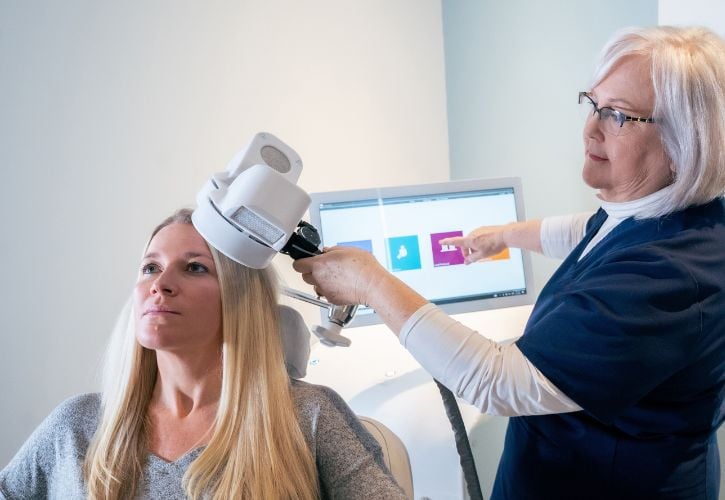 Transcranial Magnetic Stimulation has gained recognition in many countries as a sustainable and effective alternative to medications for treating major depression and other psychiatric disorders. The special magnetic coil technology used in TMS makes it suitable for both hospitals and private practice settings, and it can be delivered by psychiatry, psychology, or nursing staff.
neurocare academy was founded in 2006 by Dr. Martijn Arns and his team with the goal to train professionals worldwide in the application of TMS using best-practice guidelines that combine TMS with psychotherapy and other personalization techniques. The presenters and trainers at neurocare academy include leading experts in neuroscience and medicine, alongside experienced TMS practitioners who are available to share clinical know-how. They offer in-person and online events in neurostimulation techniques, including practical TMS workshops.
The neurocare academy offers a TMS course accessible to practitioners worldwide through the online LMS e-learning platform. It can be followed by a practical 'hands-on' TMS workshop scheduled throughout the year in their training centers worldwide.
---
For clinicians in the United States, please visit our neurocareamerica.com for dedicated information on Professional TMS training available to customers in North America.
---
Online TMS Course
Professionals can now access the online course 'rTMS in Depression, OCD & New Developments' covering the theory and technical requirements of TMS and guidelines for clinical practice. This is an ideal theoretical foundation for professionals considering TMS for their practice or research.
Get access to lessons, demonstration videos, reading materials for 6 months and complete the lessons at your own pace.
When combined with a practical hands-on training, this two-part online and practical course is recognized by institutions worldwide, including Royal Australian New Zealand College of Psychiatrists and the Stichting Hersenstimulatie in The Netherlands.
Hands-on Practical TMS Workshop
Attend a practical TMS workshop with neurocare academy to gain experience with leading TMS systems and personalization techniques. Workshops are scheduled throughout the year in our training centers across Europe, Asia Pacific and North America.
Through our global network the neurocare academy can arrange an experienced trainer to come to you. Custom group training packages are available by request.
A Personal Experience: Dr. Serge Walvoorts
Dr. Serge Walvoort, a clinical neuropsychologist at GGZ Oost Brabant, shared his experience after a practical two-day hands-on training in the application of TMS.
GGZ Oost Brabant is starting a pilot program with an TMS-only treatment that will require an active contribution from the client. Later, this may be expanded to a combined treatment with Cognitive Behavioral Therapy (CBT), which has shown promising results in research studies.
The announcement of the treatment with TMS has received positive reactions from colleagues, and therapists have organized a Multidisciplinary Consultation to complement each other's expertise and learn from each other's methods.
Several colleagues have already started treating clients with TMS, and positive reactions have been received. Dr. Walvoort finds TMS an extremely interesting treatment method, and he is excited about the potential for innovation in the mental health field. He believes that it is crucial to continue embracing new treatment methods and scientific research to improve patient outcomes. As a professional, he recognizes the importance of ongoing learning and development.
Getting more hands-on experience with TMS and becoming a certified TMS provider sounds like a step you and your team want to take?
Clinicians interested in learning more and possibly applying techniques such as TMS, can start with an online course on neurocare's LMS (Learning Management System). After completing our convenient self-paced course, participants are then welcome to join us in one of our hands on workshops run neurocare academy throughout the world.
We also offer custom training packages for hospitals, research and practice settings, helping to train your team with confidence and offer any further end-to-end business solutions in neuromodulation.
See neurocare's calendar to find a practical TMS workshop near you and explore other upcoming events!