neurocare opens second clinic in Long Island, NY
Jul 25, 2020 - neurocare group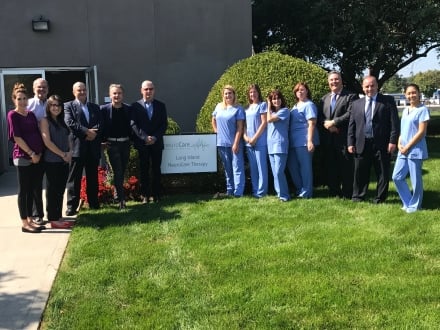 Under the expert supervision of Dr. Richard Pitch, neurocare Centers of America is pleased to open its second center in Melville, Long Island, NY.
neurocare Centers of America recently opened the doors to a new state of the art therapy center, with facilities to deliver neurocare's brand of evidence-based mental healthcare.
Located in Melville, New York, the opening marks the second center on Long Island, with the first opening in Medford in February 2017.
The Melville center will deliver neurocare's advanced treatment protocols for TMS Therapy, an effective and durable treatment option for patients suffering from treatment resistant Depression, without the need for medications.
As well as specialising in the treatment of Depression, the center is also equipped with neurofeedback technology. This technology, when used to implement neurocare's advanced treatment protocols provides an effective and durable medication-free intervention for patients suffering from ADHD and Insomnia.
Led by Dr. Richard Pitch, the center is staffed by a Psychologist, nurse practitioner and TMS therapist, expertly trained to deliver neurocare's innovative therapies for mental health.
Thomas Mechtersheimer, Executive Chairman of neurocare group worldwide, is proud to see a growing network of neurocare Clinics in the United States, saying:
"You can truly see there is a team here in Long Island, that has best-in-class training and experience to deliver neurocare therapies. Dr. Richard Pitch has served the area in mental health for many years, and we are very proud to welcome him and his growing team to the neurocare family"
neurocare's General Manager for North America, Stanford Miller, is set to see neurocare Centers of America grow throughout the United States. A third clinic opened in Houston, TX in September and a fourth is planned to open in Nashville, TN before the end of 2017.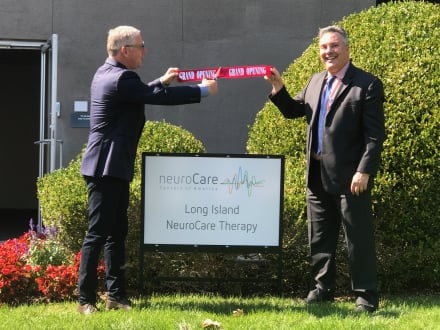 neurocare Executive Chairman, Thomas Mechtersheimer, cuts the ribbon with Dr. Richard Pitch in Melville, Long Island, NY
For further information please contact the center on +1-631-923-2772
The center is located at:
121 Broadhollow Rd
Suite 125
11747 Melville, NY