DuoMAG® XT-100
Powerful TMS for research and therapy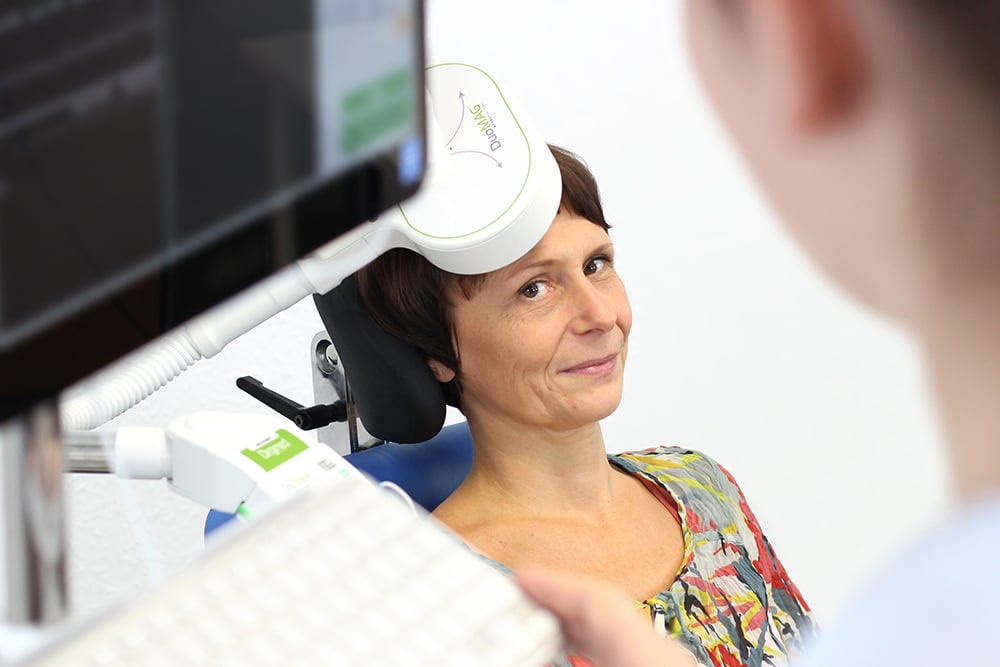 The DuoMAG XT-100 is a compact bi-phasic stimulator for use in either clinical or research settings. The stimulator is controlled via a large capacitive touch-screen Windows based interface, allowing for ease of use and detailed protocol setup and configuration. A full selection of coils are available depending on the intended application. Intensity and stimulation controls are included on all deymed coils.
The Deymed DuoMag system is unique with its lockable coil positioning system, that locks the coil in a fixed position and can be operated easily with one hand by its counterbalanced coil holder.
The XT-100 is the best choice for research applications or the need for advanced stimulation options, such as Theta-burst stimulation.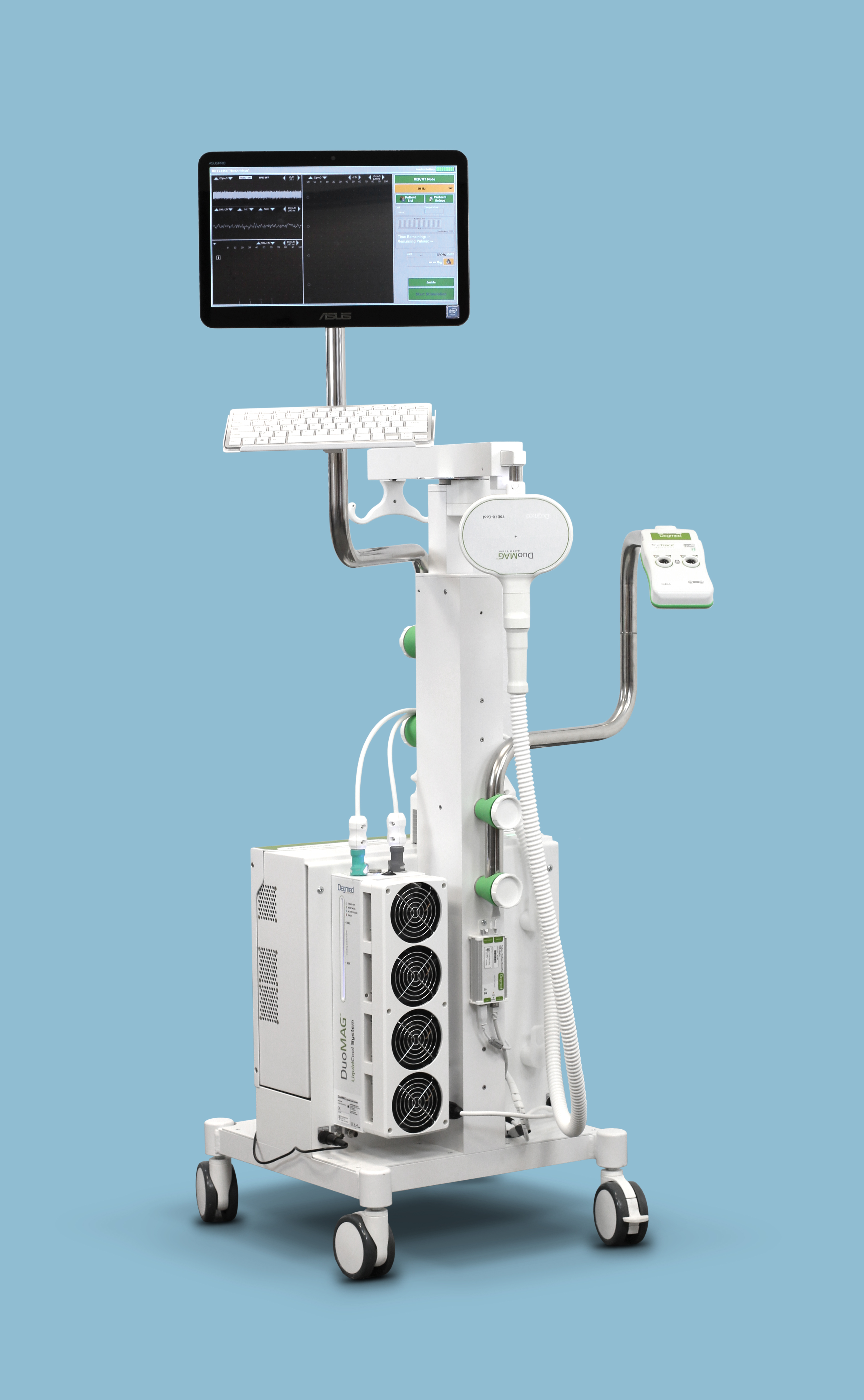 Short description of the slide.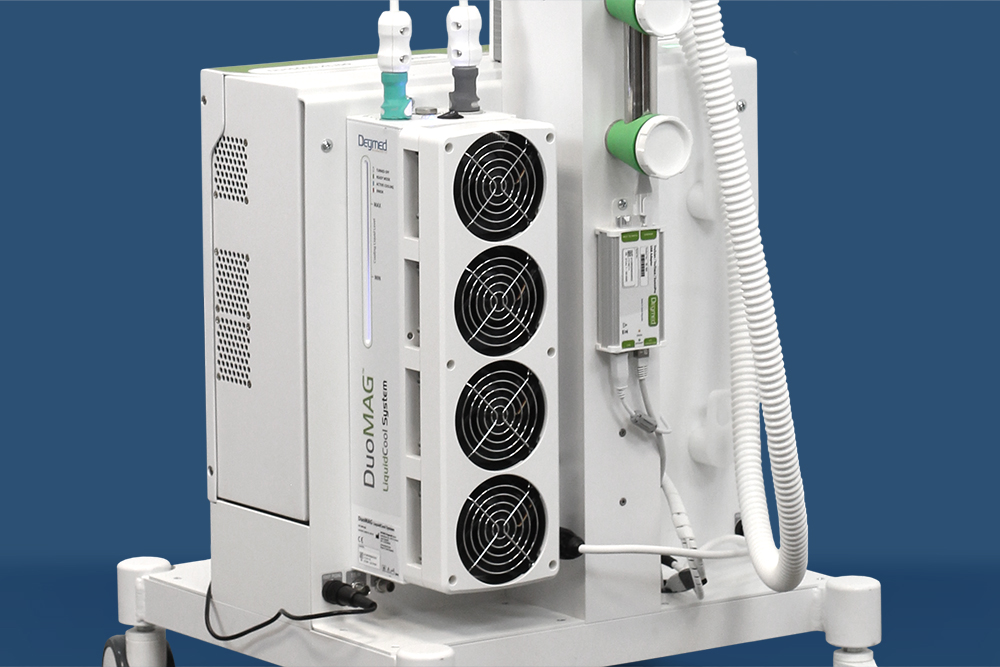 Short description of the slide.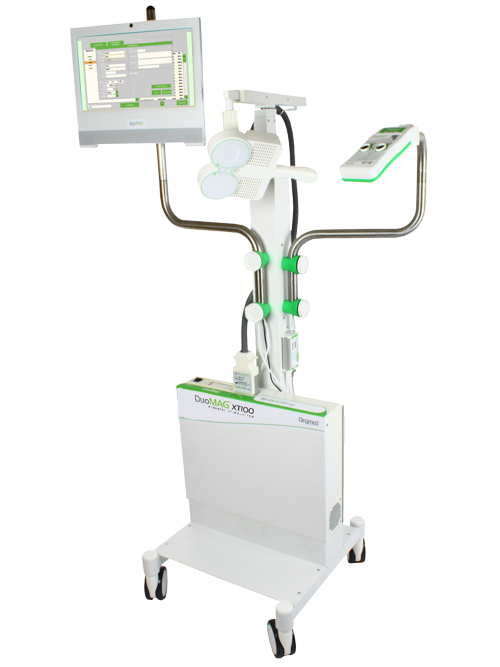 Short description of the slide.
System control and configuration via Windows based touch-screen
Controllable from an external device
Custom protocol editor and storage by way of built-in computer
Burst function fully configurable (iTBS, cTBS etc)
Supported by a complete range of Circular, Figure 8 and Cooled Coils
Custom protocol editor allowing the user to save any conceivable design, including stimulation trains, Theta Burst Stimulation (iTBS-cTBS) and changing stimulation intensities
FlexiTower cart: innovative counter-weight balanced positioning arm and auto-locking of position making it easier to find and fix the placement of Deymed coils

Specifications
Product specification
DuoMAG XT-100
Pulse mode
biphasic, repetitive, burst
Dimensions
49 cm x 11 cm x 38 cm
Weight without trolly and coil
16 kg
Stimulation intensity 100%
15 Hz
Stimulation intensity 50%
80 Hz
Maximum repetition rate
100 Hz

Minimum Interstimulus Interval in train mode

1 ms
Pulse width

280

µs

Coil compatibility
Deymed coils
Mains voltage
100-240 Vac. 50/60 Hz
Synchronization
TTL in/out and/or USB
Communication
USB full control, control on coil
Combine DuoMAG® systems for neuroscientific research
The DuoMAG® MP-Dual is a monophasic stimulator for single or double pulse stimulation with a maximum energy of 700 joules (100 µs / 1ms).

The DuoMAG® XT is a biphasic stimulator for repetitive transcranial magnetic stimulation for therapeutic purposes providing a maximum energy of 320 Joule (290 ... 320 µs).

The combination of both devices into one system allows both:
the investigation of Neuroplasticity (change in intracortical inhibition (ICI/SICI) and intracortical facilitation (ICF)
but also therapeutic applications according to the state of the art are possible.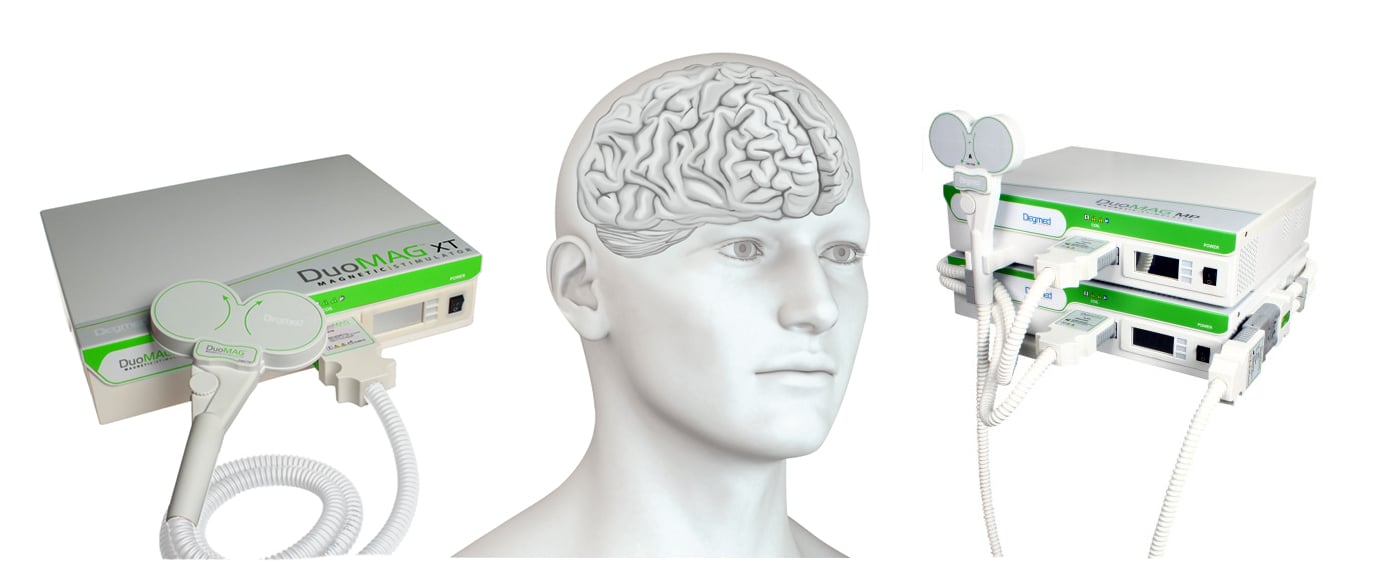 We are here to help you find the right technology and training for your practice or research
Learn to apply TMS
neurocare academy has an online course on rTMS for the treatment of Depression and OCD in both clinical and research settings. The course also covers the use of EEG and QEEG to predict and optimize treatment outcomes. This can then be followed by a practical workshops at one of our training centres worldwide.
Our workshop "Advanced Neurostimulation Techniques" provides researchers, academics and clinicians a deeper insight in our available solutions for brain stimulation and its combination with neuroimaging methods. Supervised by our specialists this workshop offers hands-on training on Multi-Channel tES, TMS-navigation and the combination of non-invasive brain stimulation techniques with EEG technology.